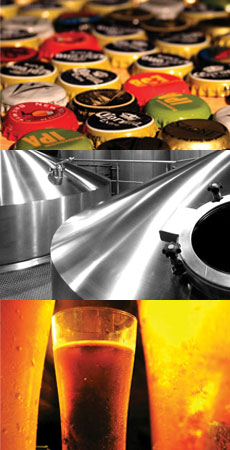 The beer brewed in German homes for thousands of years was ale, until about 500 years ago when lager became popular. There is no written evidence of the earliest beer, but a Bavarian grave dating to about 800 BC contained beer made from bread. When the Roman Empire invaded Europe, soldiers found the residents of what would become Germany were already mass-producing beer.
NEWS
Copperlake Brewery Tour
Date:
Thursday, 6 December, 2012
Five of the current young members travelled out to Copperlake Breweries in Lanseria on 17th November to visit home brewer and IBD member Brendan Watcham, who is in the progress of acquiring his brewmasters qualification.
The morning was spent with a large and lively group of students passing through on a craft beer tour of microbreweries within the Gauteng area. Brendan guided the tour through the brewing process within his brewery giving a great appreciation for the hands on feel the brewery expresses
Delicious dunkel (dark lager), unfiltered lager and English ale were on tap and enjoyed by all over bacon and eggs rolls and some light hearted conversation (the quick technical debate was never too far from topic)
The IBD would like to thank Brendan for welcoming some of it's young members into Copperlake and will be avidly looking for his beer at upcoming festivals and out in trade!!
Robert Jacobson
Young Member Rep