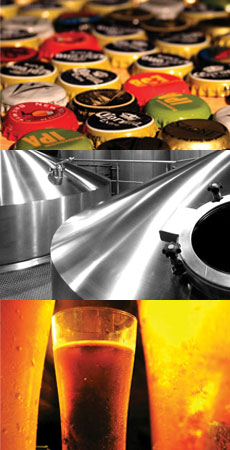 The US state with the highest per capita beer consumption is Nevada, at 44 gallons a year per person. However, you can imagine a lot of that is consumed by tourists. The next highest state is New Hampshire at 43 gallons per person per year.
GEA Award
GEA BREWERY AWARD for IBD AFRICA SECTION YOUNGER MEMBER
Sponsors: GEA Huppmann, Tuchenhagen Brewery Systems, Tuchenhagen South Africa
Award prize
Return economy flight to Brau Exhibition Nuremberg, Germany alternatively Drinktec Munich which falls within the 5 year period.
Accommodation including breakfast during exhibition and at Kitzingen during visit to Huppmann.
Pocket money 500 euros
Use GEA Stand as a base during exhibition
Before exhibition visit Huppmann which is a company of the GEA Group in Kitzingen in Germany
This award will run for five consecutive years starting in 2007.
Participants
IBD Africa Section Younger Members employed in industry, academia, manufacturing and the brewing industry.
Employees of the GEA Groups of companies are excluded from entering this award.
Judges
Professional Graham Stewart on behalf of the IBD, London
Representative from Weihnstefan University, Germany
GEA Tuchenhagen Brewery Systems
Scope of the project
Research or applied projects related to Process Technology in the storage of materials, production of wort, fermentation, maturation, filtration and storage of final product for packaging. Projects may include aspects related to utilities, process control, hygiene and environmental factors.
Packaging and Spirits Distillation processes are excluded from the scope.
Structure of project for submission of award
Personal data of author of project
Name and age
Physical address and email address
Name and address of company or institution
Name and address of author's manager or supervisor
Brief description of current position
Qualifications
IBD Membership number
Project title and details (maximum 3000 words)
Summary of purpose – expected outcomes to be achieved (200 words)
Key benefits obtained
Experimental or practical aspects of the project that include basis for project, calculations, conclusions, diagrams, graphs and pictures where applicable
Literature references
Format of the presentation
Word document. Arial type size 11
Maximum size of document; 2.5MB for ease of communication. If large advise Award Coordinator below.
Pictures may be formatted in PDF to reduce size
Project submissions to be sent direct to GEA Award Co-ordinator only, by no later than 18th June 2008
GEA award Co-ordinator: Eddie Wepener, email: eddie.wepener@geasa.com